子どもに大人気!ハンバーガーレシピ3選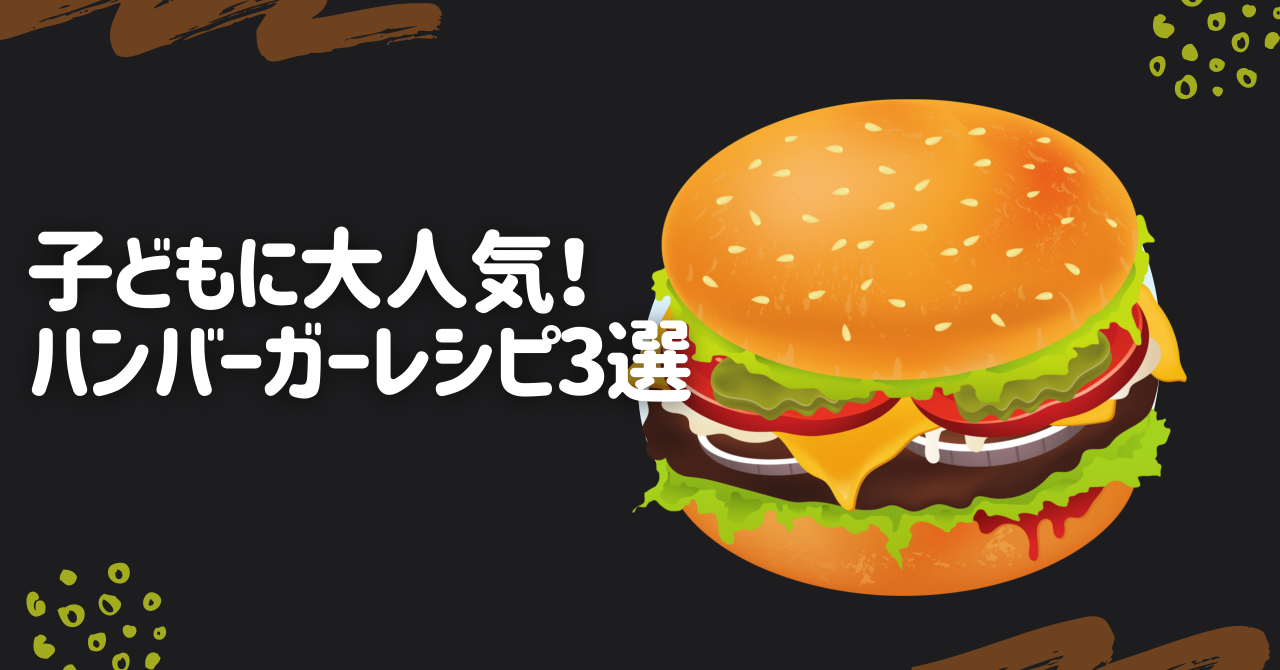 This time, it is very popular with children! Introducing hamburger recipes!
Hamburgers are one of the most popular fast food foods for children. It's not uncommon to see a large queue of cars waiting for a drive-through at noon on holidays.
What if you could make such a hamburger at home? Your child will be overjoyed!
Here are three hamburger recipes. All of the recipes I'll show you are Party Kitchen.
You can check the process on YouTube video, and you can check the recipe and procedure in text. You can cook without hesitation, so please have a look.
1. Mos Burger
### recipe: 688 ###
By exposing the chopped onions to water and lightly salting them, the point is that you can get a good texture with less spiciness! looks delicious! Once the fried onions are chilled in the refrigerator, they will be delicious without compromising the juiciness of the meat.
[Cooking procedure]
1) Prepare the ingredients 00:09 Finely chop the two onions, slice the tomatoes into round slices of about 1 cm, and cut the other vegetables into pieces that are suitable for hand blending. Soak one chopped onion in water for 10 minutes, lightly salt and soak in water for 20 minutes.
2) Make a sauce using the ingredients of (A) 01:38 Cut onions, carrots, celery, and canned tomatoes into a suitable size and put them in a hand blender to make a paste. Heat salad oil and chopped garlic in a frying pan over medium heat to make it fragrant, add minced pork and fry. Add bouillon and simmer over low heat for about 20 minutes while mixing. Add the ingredients of the remaining sauce, turn off the heat after boiling, and adjust the taste with ketchup.
3) Make stir-fried onions 03:23 Heat salad oil (not included) in a frying pan over medium heat, add chopped onions and fry until clear. Transfer to a plate to remove the rough heat and let it cool.
4) Make hamburger steak 03:47 Put the stir-fried onions and the remaining ingredients (B) in a bowl and mix well until sticky. Mold into a circle with a diameter of about 6 cm.
5) Bake the hamburger 04:23 Heat 2 tablespoons of salad oil (not included) in a frying pan, line up the hamburger steak and bake on medium heat. Shake the frying pan from time to time, and when the hamburger is browned, turn it over with a spatula. Cover and cook over low heat for about 5 minutes.
6) Finish 04:59 Place the hamburger on the toaster-baked buns, put a little mustard, about 3 laps of mayonnaise, and put the onion, sauce, tomato, and buns that have been exposed to water in that order.
2. Easy roll burger
### recipe: 688 ###
You can do it with just one frying pan, so it's easy and hassle-free! If you sandwich the ingredients, the finish will not be stable, so by sticking a skewer and fixing it, it will not crumble easily and it will look better and it will be easier to eat.
[Cooking procedure]
1) Make a fried egg 00:01 Put olive oil in a frying pan, break the egg into it, heat it, and bake the fried egg.
2) Bake fish hamburger 00:09 When the fried egg starts to cook, add the fish hamburger steak. Bake on both sides while turning over. If the area around the egg whites burns on the way, turn the fried egg over.
3) Cut and bake bread 00:15 Cut the bread in half, make a cut and take it out.
4) Sandwich the ingredients 00:20 Place bread rolls, lettuce, tomatoes, fish hamburger steak, cheese and omelet. Put ketchup and mustard on top and bread on top. Skewer to finish.
3. Tsukimi burger
### recipe: 1688 ###
The last recipe is made from dough, so it takes about 2 hours! It will be a fun holiday if you make it in cooperation with your child. If you have trouble making bread, you can use soft French bread instead!
[Cooking procedure]
1) Combine strong flour and weak flour 00:46 Combine the strong and weak flours and mix with a whipper.
2) Make the dough 01:21 Put milk and butter that has been warmed to room temperature in a heat-resistant bowl, and heat it in a 600w microwave oven for about 1 minute without wrapping. Stir with a whisk to melt the butter, add dry yeast and mix well. Add sugar and 1/3 of the amount and mix until smooth, add salt and mix further. Add the remaining flour and mix with chopsticks to make a lump. Mix for about 2 minutes
3) Primary fermentation 03:24 Wrap the bowl and heat in a 200w microwave for about 30 seconds.
4) Divide it into two equal parts and let it rest (bench time) 03:39 On a floured (outside the amount) table, lightly lump the heated dough and cut it in half. Cover with plastic wrap and leave for about 20 minutes. The size of the dough is about 1.5 times larger, and you can rest until the dough becomes smooth.
5) Secondary fermentation 04:30 When the bench time is over, lightly degas and re-roll and place on a bakeware lined with parchment paper. Cover with plastic wrap and heat in a 200w microwave for about 30 seconds. Move the whole cooking sheet to the top plate, wrap it, and leave it at room temperature for about 20 minutes.
6) Bake in the oven 06:04 When it swells 1.5 times, apply beaten egg with a brush and sprinkle with white sesame seeds. Bake for 15 minutes in an oven preheated to 180 ° C. The buns are complete when they are browned and browned.
7) Make putty 07:03 Put a cooking sheet on the bat, divide the minced beef into 6 equal parts, put the putty in the cercle, and shape it to a thickness of about 1 cm. Once formed, let it rest in the refrigerator for a while.
8) Bake the putty 07:48 Just before baking the putty, salt and pepper the meat. Heat the frying pan over high heat, and when it is warm, add the putty and bake for about 1 minute. When it becomes brown, turn it over, bake for about 1 minute, reduce the heat to low, cover and steam for about 5 minutes.
9) Bake bacon 08:33 Bake the bacon until crispy.
10) Bake the egg 09:00 Put the eggs one by one in a mold and bake. Bake 6 in the same way.
11) Make aurora sauce 09:55 Mix mayonnaise, mayonnaise and condensed milk in a container.
12) Finish 01:14 Divide the buns into two equal parts. Put putty, egg, bacon and aurore sauce on the buns and sandwich it to complete.